This is the first ever blog that I have written.
Thanks to Martyn Reah for giving me the push that I needed to start something I have been meaning to do for the past 6 months.
Well-being is something that has been of real interest to me since 2005, the year in which a couple of friends and I started the concept of 'Tea and Seeds'. Once a week, we booked an office or table area so that we would have an hour of uninterrupted time to review our well-being. Each of us discussed our week as we tried out different types of healthy snacks and herbal teas. A part of one friend's role was to promote Emotional Health and Well Being through SEAL (Social and Emotional Aspects of Learning) initiatives in schools. She explained about the importance of Emotional Health and Well Being through 6 main aspects:
physical care – even if it's just a quick walk
spiritual care – taking time to reflect or wonder
social care – communicating with friends even when we are busy
intellectual care – reading a book or doing the crossword
emotional care – giving yourself time for you to do what you want
creative care – making something even if it's beans on toast
Each week, we reported back on these 6 areas. Thinking back over that time reminds me of how much fun we had. More importantly, the collective accountability forced us to take time out of our busy lives so that we had something to share each week.
Being a visual person, I created an A4 chart based upon the 6 areas my friend explained. Having this displayed, helped me to stay on track and easily see if I had neglected to take out time for myself during the week.
We managed to keep this up for several months and I even have photos as a reminder of that time.
Many years later, my work life balance has had its highs and lows.
Last term was a particular low due to additional work demands around whole school developments which had to be quickly turned around. In addition, I lost friends, relatives and work colleagues throughout 2014. My periods of grief lead from apathetic working to excessive workloads.
When I initially heard about Martyn's initiative, I was too busy to think it through! I was juggling too many things both mentally and physically. And this showed. Within the space of 5 days, I had a friend and work colleague expressing her concern about whether or not I was happy in my role followed by a former student asking if I was ok as she thought I looked upset. I was taken aback on both occasions to hear their concerns. So I reflected and realised that as I had so many things going on in my mind, I was not living in the moment. This was shown by my lack of smiles and pensive facial expressions.
When I took the time to revisit Martyn's idea, I knew this was a timely opportunity for me to review my work life balance. I felt little energy, inclination or motivation to do the things I enjoy as I constantly felt tired. The things that kept me going during the Autumn Term were my family, friends, weekend respites and Twitter Tweachers!
In spite of a cold in November, I came down with a bad case of flu during the last week of term. I think it was just my body's way of telling me to be more balanced. The symptoms I explained during two 111 calls sounded like suspected pneumonia. A trip to the hospital revealed that I was only suffering from a severe bout of flu. I was then prescribed antibiotics, bed rest and warm fluids.
This experience made me realise that it took something as extreme as this to make me do what I should have been doing all along – resting when I needed to, getting the sleep my body needed and eating healthy meals.
So with all this in mind, here are my commitments to #teacher5aday:
#connect – I will schedule time to sit down at break time with different colleagues.
#exercise – I will make time for at least 5 minutes exercise of some form of exercise (!) each day. @trowel63 suggested a great way for me to exercise – using ankle weights as I walk to school from the train station.
#learn – I will set up my own blog site (*gasp*)! In addition, I will also learn how to use the following properly in my lessons: Prezi, Padlet and Pic Collage.
#notice – each day, I will write down at least one thing that I am grateful for. This will force me to be more 'in the moment' and notice more things around me. To help me in this regard, I will get to bed at a reasonable hour during a school night to prevent me operating on 'zombie mode'.
#volunteer – I will support another tweacher as one way of giving back to the Twitter community. We have already made plans and I am looking forward to helping out any way I can.
To help me chart my progress, I have created different charts to see which works best for me during the challenge.
https://www.dropbox.com/s/denxh8gjy7jpies/Teachers%205%20a%20day%20review%20toolv4.docx?dl=0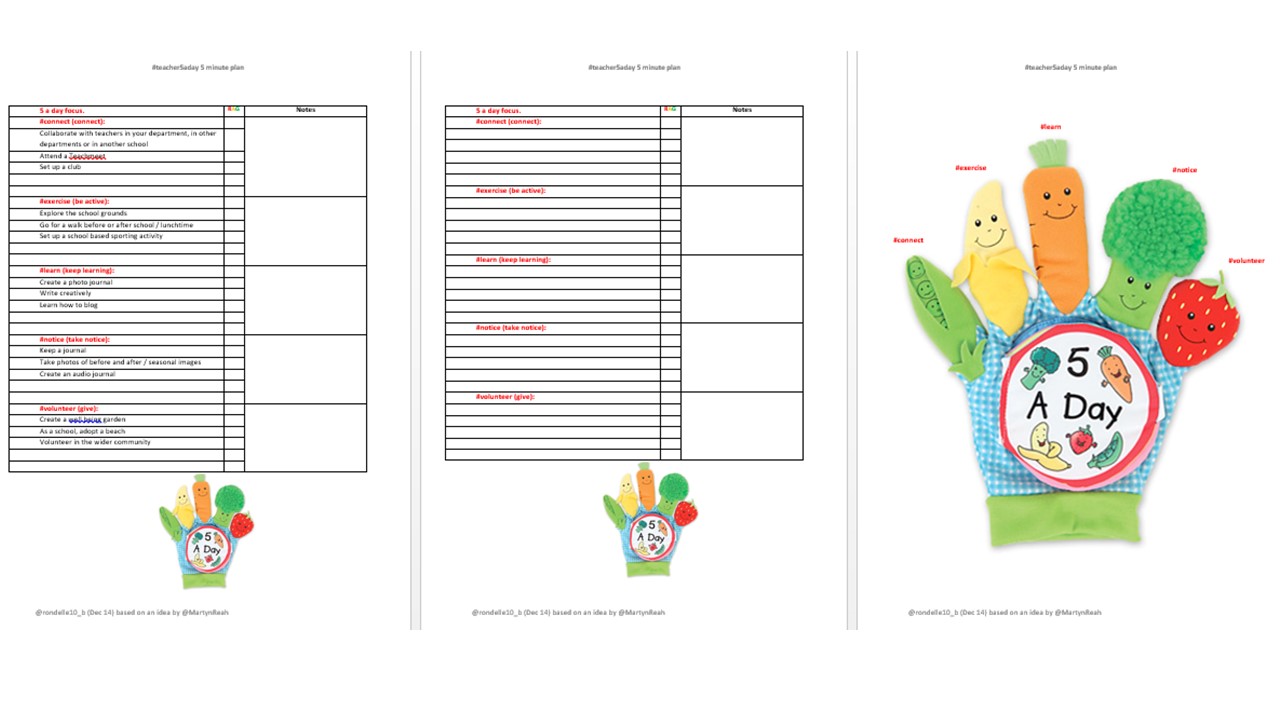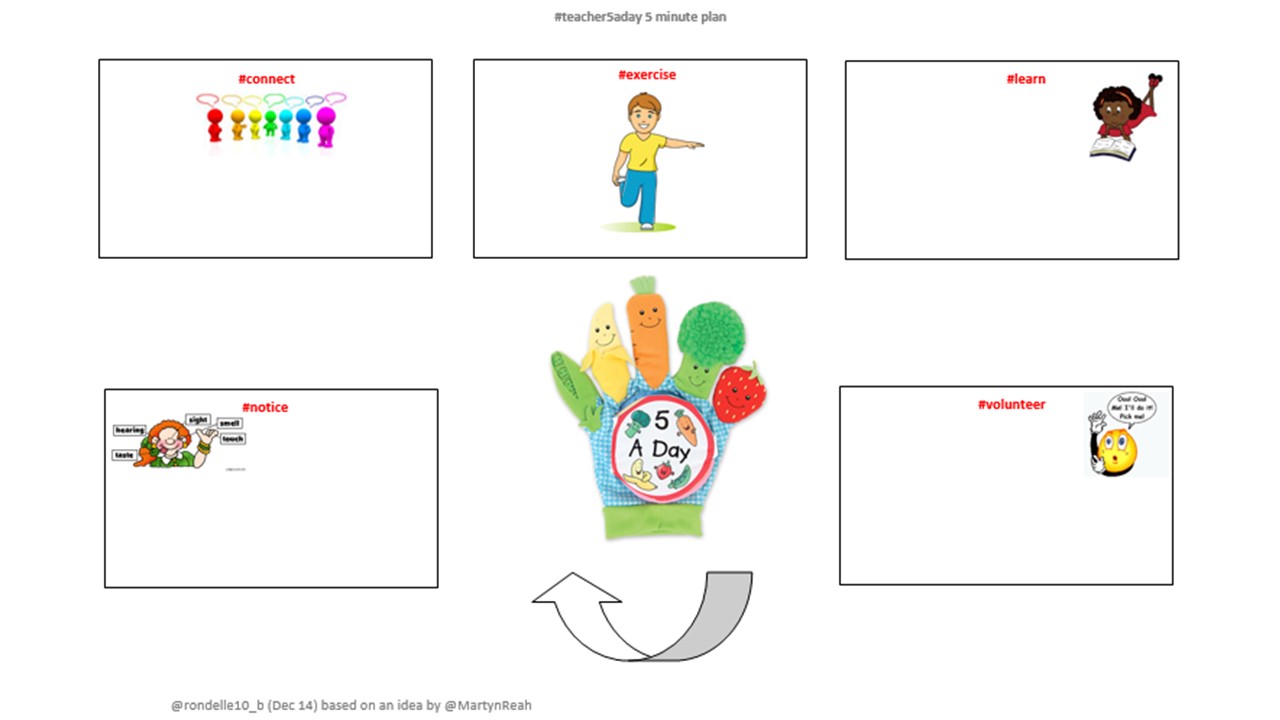 I am excited as I note my commitments due to one key thing: I will not be doing this alone. Thanks for Martyn's initiative, there will be many tweachers engaging with #teacher5aday. This will be enough to keep a smile on my face through out January.
Thank you for reading.